Christmas is almost upon us. Shopping for that perfect gift is the order of the day, (sometimes right up until that last moment before the goodies are to be unwrapped). It can be terribly difficult to find the perfect gift, and some people are notoriously harder to buy for, those people are often wordsmiths, readaholics, and grammar gurus.
I know a thing or two about just how hard it can be. I have writers, and readers, and word nerds on my own list. I also happen to be a writer, reader and word nerd myself. I've been told I'm not the easiest gal to find gifts for.
In an effort to make things easier for those who may not completely understand the needs and desires of those of us who live in words, I've compiled this here list of awesomeness.
Last years list was pretty cool too, you can check that one out —>  HERE  <—
Now, many of the amazing, fun, unique, practical, silly, and kind of perfect gifts on this years list are things I would love to have myself (You got me. All of it. I want all of it.) If someone could kindly forward this list to my husband, I would appreciate it. 
These are things I've found browsing the web, looking for coolness and things. I'm not being paid or receiving any other form of compensation for including any items in my awesome list of things I want, gift ideas. Of course, if any of these wonderful places offering the wonderful things would like to give me a little somethin', I wouldn't say no.
Here we go, in no particular order, (images clickable) awesome gifts for your favorite ink-slingers, scribes, bookworms, bibliophiles, grammarians, and philologists.
~ 1 ~
As everyone thinks Ernest Hemingway said, "Write drunk, edit sober." With that in mind, how about some Writer's Tears whiskey?
*quote has been attributed to Hemingway, but . . . in 1964 novelist Peter De Vries wrote, "Sometimes I write drunk and revise sober, and sometimes I write sober and revise drunk." in his novel 'Reuben, Rueben'.
Described as 'Gently spiced with a burst of ginger and butterscotch with background notes of toasted oak. Long, elegant finish with subtle notes of milk chocolate and almonds'.
100% Barley. Both malted and unmalted. 40% alcohol.
I don't know how much actually writing I would get done, but it would look good on my
~ 2 ~
Since we've got a bottle, we need something to drink from. These will work just fine. Great Drinkers Shot Glasses from The Unemployed Philosophers Guild
Take a shot with the greats, Oscar Wilde, Dorothy Parker, Winston Churchill, Yeats, and Baudelaire. Each glass has a picture of the author and of course, a quote about drinking.
Yeats glass quotes, 'The problem with some people is that when they're not drunk, they're sober.'
~ 3 ~ 
Since we're talking booze, I thought I'd throw in this decanter, cool right? I know I like the things around me to be a little different from the usual, I think a lot of us wordy types do. Eclectic and sometimes unusual tastes in decor is kind of a thing with many creative types.
You can find this one on Amazon. That's where I found it.
I think I would likely fill it with something other than spirits, maybe some printed pages or parchments strips with my favorite words on them. Or cool rocks. I don't know.
~ 4 ~ 
You usually can't go wrong with a journal, especially a personalized one. I know I can never have enough journals. You might think I have a slight hoarding problem if you saw my own collection.
This handmade leather journal from Gift Tree can be personalized, it features 192 lined pages to jot down notes, ideas, and memories – a perfect way to preserve precious words. I really don't need another journal. Truth is, I need many more journals. I do.
~ 5 ~
For everyday writing, story ideas, and rough drafts I love using legal pads. The plain yellow ones are fine, the ones that come in various colors are great, (I like those for keeping projects separate). But I found these, and I kind of just want a few or ten.
Legal Pads offers customized pads, kind of cool, right?
~ 6 ~
Every writer needs something, many somethings, to write with, Barnes & Noble has this fun Kate Spade pencil set. It comes with ten pre-sharpened, bridge style pencils, each with a writerly saying.
Yours Sincerely, Take Note, Spell It Out, So Well Composed, To Whom It May Concern, What's The word? The Dotted Line, In A Manner Of Speaking, From Me To You, 55 Words Per Minute
I don't think a house can ever hold too many pens or pencils . . . or sharpies or gel pens or fountain pens or colored pencils or markers.
They're collectible, right?
~ 7 ~ 
 I should probably tell you I have a pen addiction. One I have zero intention of recovering from. My absolute favorite pens come from Cross Pens. Now, before you click on over there, I must warn you . . . they are amazing and you will desire them, don't let some of the prices scare you. They have some up to $10,000 dollars. NOT a typo. BUT, they also have gorgeous pens f0r us regular folk.
~ 8 ~ 
I could use a pen that'll last me seven years. That's how long they say this one will last. maybe that's why they called it The Seven Year Pen. Found this one on Amazon, but they are for sale elsewhere too.
~ 9 ~
There is something magical about vintage typewriters, whether they are non working relics of the past that serve to inspire creativity, or those with life left to give to a page keystroke by keystroke.
There is something so satisfying about the sound of the keys being punched and the strike of each letter as it hits the page, leaving that indelible mark inked upon it.
The prices of these pieces of history range from, 'I can do that, to holy crap.' A quick Google search will bring up plenty of options to choose from. Etsy, eBay, and sites specializing in preserving these treasures for generations to come.
~ 10 ~
Now this Royal Epoch Manual Typewriter I found on Amazon might be a bit more budget friendly, believe it or not, quite a few companies still make them.
Some might consider them novelty items, but there are still writers who actually sit down and pour themselves onto sheets of paper this way.
~ 11 ~ 
For those who prefer a bit more tech in their savvy, there is the super-cool-I-really-want-one-the-price-has-come-down-from-last-year-pretty-please-I-need-it Qwerkywriter keyboard.
This thing is just cool. The best of both worlds.
It connects wirelessly via Bluetooth to iPhones, iPads, iMacs, MacPros, Macbooks, Android Tablets Devices, Windows Tablets, and more. It's clicky, like the real deal. I adore that sound. This retro gadget has all the modern features you need, and I think it's safe to say I need it. You probably need it, or someone you care about does. You should give one to them.
~ 12 ~ 
I am in love with these vintage etched in bottles from Vinegar and Brown Paper. They are gorgeous. I kind of have an affinity for things of the past, I suppose it makes me feel connected in some way to those writers who must have sat with quill and ink, penning words to a page beneath the soft glow of candlelight.
~ 13 ~
Now, something to put those gorgeous ink bottles to good use, a beautiful writing set like this Windsor Traveling Writing Set would be lovely.
This is another of those items that a Google search will prove helpful in finding, there are so many options and price ranges to choose from.
~ 14 ~ 
This one of for lovers of classic books. I don't know about you, but there are some books I could read over and over again, many of those are what we refer to as the classics. I also like to take a book with me everywhere I go, sometimes a couple of them. With this little gadget, I can take thousands of them.
This USB digital library includes many favorites and many more I've yet to read. Now, I personally prefer an actual book I can hold and turn each page, but I wouldn't say no to one of these little doohickeys in my stocking.
~ 15 ~
Back to pens again. This one is kind of cool, especially for those late night thoughts that force you to rise and write, unfortunately, to do so usually requires a light source and if someone is snoring away blissfully beside you, they aren't always happy when you illuminate the night. So this LED pen is the perfect solution!
~ 16 ~
Did I mention I have a slight PEN addiction (I can stop anytime I want. I won't, but I can) This 1960s inspired pen necklace is gorgeous. Practical too.
It might surprise you to know, I am always looking for my pen. I know, I have a gazillion of them, but for some reason I am always searching got one when I need it.
With this, there is always a pen within reach.
~ 17 ~
This library embosser made last years list too. It's on this years list again because I think it's just that cool, and I still don't have one.
I love my books. MY books, so much I want to brand every single one of them so everyone knows they are MINE.
I don't want to put sticky labels in them, or rubber stamp them with ink, that just feels wrong to me, but there is something elegant about embossing I simply love.
~ 18 ~
Since I'm being honest about my hoarding and addiction issues, I may as well tell you – it's bookmarks too. All kinds of bookmarks. I love these little Book Darts. If you're anything like me, you carry books around with you. And if you really are anything like me, your bookmarks sometimes fall out. These nifty little things don't do that.
~ 19 ~
It's a hammock. For your feet. It's a foot hammock! I typically curl up in a comfy chair to read, or grab my laptop and plop myself down to write, but for those times I'm forced to utilize my desk, this could come in handy, or footy, whatever. It looks relaxing.
I like relaxing. I might just need try out this Geekfactory Mini Office Foot rest.
~ 20 ~ 
I know, writing implements again. I cannot help it. I just can't. These Palomino Blackwing 602 Pencils are said to be a writers favorite pencil.
The original Blackwing pencils were made from 1934-1988. Those ones, the originals, can be found on eBay for $50, the older, rarer pencils can cost $100! Dudes, John Steinbeck loved these pencils.
It was a soft pencil with wax added to the lead, the wood was cedar and it was said to require less effort to leave its mark on the page The modern version of these pencils is said to be just as good, maybe even improved. It even has a replaceable eraser. A replaceable eraser, I love that.
Another super cool thing about these pencils is a portion of the proceeds from each sale goes to the Blackwing Foundation which helps support music and artist education in schools.
~ 21 ~ 
Okay, I promise – no more pencils after this. Maybe. These Storyteller pencils from The Literary Gift Company are cute though.
Each box has six pencils with a classic opening line printed on the side. 'It was a dark and stormy night…', 'Once upon a time', 'It was a day just like any other', 'All this happened. More or less.' and others . . .
Cute, right?
~ 22 ~
 With all the pencils and pens, it only makes sense to include a vintage inspired sealing wax set. This Vivinsky letter set comes with an initial letter stamp.
Perfect for all those letters that will be written with the fancy pens I've brought to your attention.
Comes with wax stamp, wax spoon, white wax, and three sealing wax sticks.
~ 23 ~ 
 How about some magnetic poetry? These are from The Writer's Store
~ 24 ~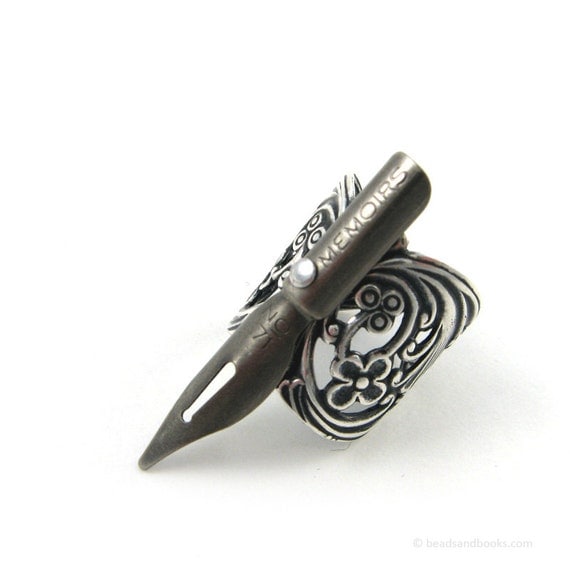 A little novelty bling? Etsy has the coolest stuff.
This is from a shop called michellemach, she has a five star rating and thousands of sales. Now. don't get mad, but this item was sold, BUT she has tons of cool stuff for writers, readers, teachers, and librarians.
You should go see what you can find!
~ 25 ~
Speaking of bling, how adorable is this necklace?
Approximately 18 Inches in Diameter Silver Plated Classic Link Chain and Pendant Lobster Claw NecklaceHeart Charm Measures 1″ tall x 1″ WidePackaging: Black Velvet Pouch
It's not expensive, but it could be worth a great deal to a writer, proud of her craft.
~ 26 ~
T-Shirts = great gift, especially when they say funny, profound, or relatable things. Writers and book readers needs to be comfy AND look good. There are so many fantastic shirts out there, click on any of these or just surf around the web a bit to find more.
~ 27 ~ 
All of the things. Out of Print just has all the things. Go there. See. Get gifts.
~ 28 ~
A digital voice recorder is perfect for the writer who always seems to be on the move. you never know when inspiration is going to strike!
I know my muse visits me just about anywhere, whenever it fancies, and I am often without paper or pen and we all know how hard it is to get those thoughts back sometimes.
They can be pricey, but a basic one, like this Olympus from Best Buy will do just fine.
~ 29 ~
I've heard rumors about people who loan out their books to friends, I think this might be a hoax, you know, one of those urban legends. I should probably check Snopes to be sure.
I can't imagine borrowing someone one of my books, but if I did, I would totally want one of these Personal Library Kits to keep track of who borrowed which book and when they brought it back.
Plus, I've always wanted to be a librarian, so I love it.
~ 30 ~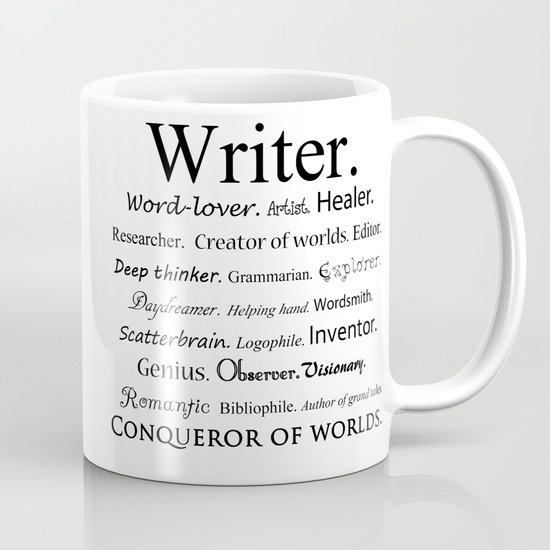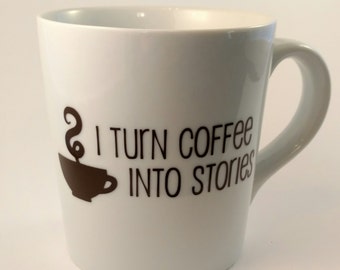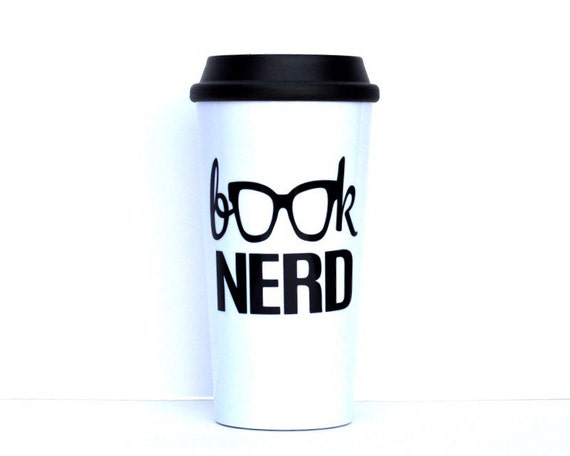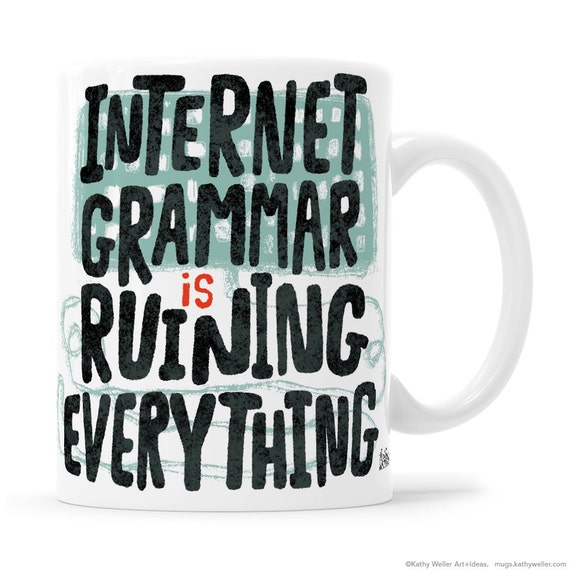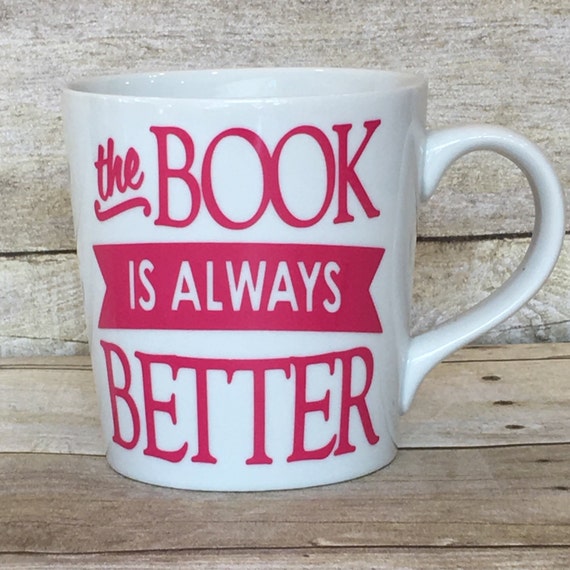 Coffee mugs. Writers love coffee mugs. Readers love coffee mugs. They hold coffee which is life-sustaining. You can even put tea in them, hot cocoa, milk, OJ, and other . . . stuff. You should always have a few or 12 on hand.
~ 31 ~ 
This Excelvan nightlight/booklight would make a fun addition to any book lovers decor.
It's a folding LED nightlight that looks like a book! It's made with a white maple wooden material, (so, something that resembles wood?), and tyvek paper. Good, strong stuff.
It can be displayed in several ways, and is able to cast light 360 degrees.
~ 32 ~
Storiarts has beautiful literary items, clothing, pillows, scarves, fingerless gloves, & even something for your future readers. Perfect for showing off your love of all things literary.
~ 33 ~ 
The Writer's Digest Shop has gobs of great stuff for the writer in your life, they have great deals too. Don't forget, all the pictures in this list are clickable. Go check it out!
~ 34 ~
Elegant and functional, and I find, quite calming. An hourglass or a timer is a great gift for writers who need to pull themselves away from their craft and take a break, (but can't seem to remember to do so), it's quite perfect for timed writing exercises too.
This particular hourglass runs out at 60 minutes, you can find others in various time measurements as well.
~ 35 ~
Shakespeare was the indisputable king of insults. His barbs and jabs were, and are, epic.
This Shakespeare Insult Generator is hilariously fun. Sling insults like a Bard.
~ 36 ~
These Out of Print and Socksmith socks from Amazon are fun, and they keep your favorite writers and readers footsies warm. You know, those creative types in your life need more than just plain old boring footwear.
~ 37 ~
 A nice hot cup of coffee or tea is often what writers and readers use to sustain life. I'm being serious. This is a truth. Giving them a Keurig, like this one might just prolong their time here on Earth..
They can freshly brew their choice of nirvana in a cup anytime, don't forget a box or two of their favorite drink pods. It will keep them happy, sustained, and they will love you forever. Just don't bother them before or after they've had a cup.
~ 38 ~
Gift cards. Easy peasy, perfect. If you're not sure just what to get or you want to let your gift recipient pick out just what they desire, gift cards are the way to go. Maybe some new books, a few new writing apps, or some coffee . . . to be safe, one of each would be your best option. They all go together, after all. (pics are clickable if you wanna click them.)
~ 39 ~
A gift subscription to their favorite magazine. It's easy to do and lasts all year! Perhaps a gift subscription to their favorite literary journal (below) as well.
Click any photo for subscription info.
~ 40 ~
(a bunch of other cool things)
~ Click on the pics to get details ~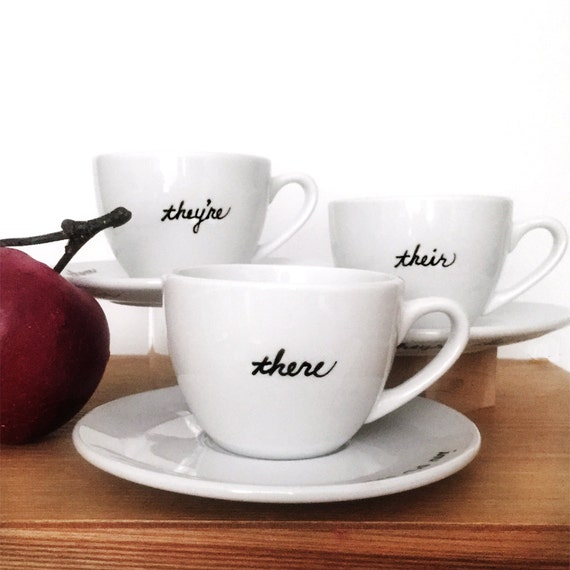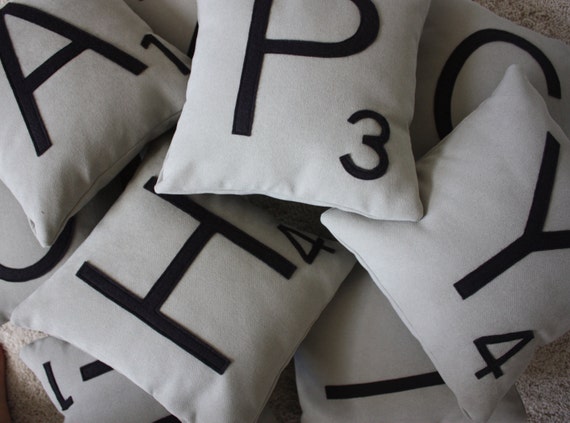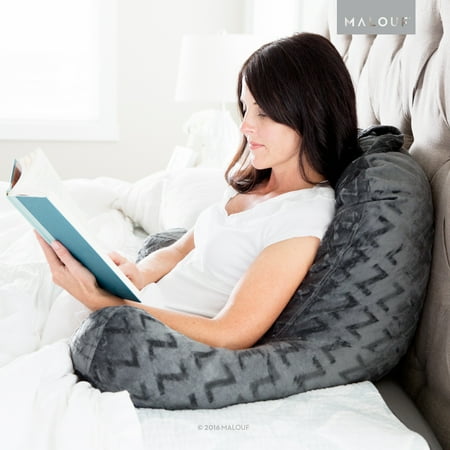 And last, but not least . . .
I have just a few more suggestions that just might mean the world to the writer, book lover, or grammar aficionado in your life . . .
Time for writers – It goes by so quickly, especially when you're focused and your muse has stopped by to sweep you off your feet. Words are fickle things, you know. Once they begin to flow, they don't always like to stop, and when their vessel (the one with the pen or keyboard) is interrupted, they retreat. Sometimes it's hard to coax them back out to play. Writing is also sometimes the only therapeutic release some folks have, it's essential to their well-being.
Support for writers – Writing is a fairly solitary pursuit, don't get me wrong, that solitude is a gift, but when the work is done a writer can sometimes feel a void. It's important to show your support, to let them know you think the words they pen are worthy, because I'll let you in on a little secret, much of the time we writers simply aren't sure they are.
Quiet for readers – When a reader is lost between the pages of a book, they are in another world and constant noise and intrusion tears them without mercy from the world they've become immersed in. Everyone escapes reality in their own way, for some it's music, or movies or video games. Think about how you choose to unwind and then imagine not being allowed to do it. Winding down becomes being wound up and an attitude of annoyance takes the place of the calm you were seeking.
Patience for word nerds – They aren't trying to be pretentious, not all of them anyway, they simply have a passion for language. They love words, they appreciate them and the way they are meant to be used. Don't take it personally when they correct you, learn from them. If you like to use shortcuts or internet-speak when writing or texting, maybe take a few seconds of extra time to write out words properly when writing or texting them. You may know a lot about a particular subject, you might get a little irked when someone says something about it you know is innaccurate and maybe you'll correct them, right? It's the same thing for word nerds and grammar geeks.

A few more ways to show you care for your literarily inclined loved one could include refilling their empty mug of coffee, or tea cup of course. Offer a back rub, believe it or not, writing all day or engaging in a reading marathon takes a toll on the body. Ask them about what they're working on or what they're reading. **not while they are actively engaged in said writing or reading, for your own safety ** If you notice the light has begun to wane, quietly illuminate the room for them.

Remember too, they are not ignoring you, they are simply paying attention to themselves, and that's important. If they didn't love you, they would run off to a secluded cabin in the woods or a cozy little cottage on some sandy shore far away, they've likely considered it, but they are there . . . with you, and that's something special
Merry Christmas my most special readers . . . I hope you find the perfect something for the special people in your lives. If you know of something that will make a nerdy heart soar, share it with me in the comments! I do love a good soaring . . .